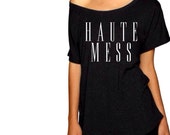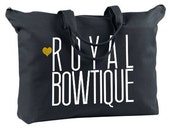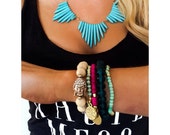 Do you love accessories for you and your mini? Home of the "Royal Haute Mess" tee and the "Mini Royal Haute Mess" tee, Kylie Wright and Spencer Giles know how to spice up you and your little in some of the cutest apparel and accessories Phoenix has to offer. Not only are they a great duo, they give back. Unfortunately, Spencer is suffering from Kidney failure and is set to have a kidney transplant on October 3rd. Her sweet sister, Kylie, is a match and is able to be a living doner and donate her kidney. How cool is that. If that isn't bonding, Im not sure what is. They will be debuting a tee where they will be donating the profits to
Donate Life
. I love this. Isn't that why we are here? To help others? I feel that is how we know true love by giving what we have to those who need it. This is it people. This is it. Knowing love is giving life. In all ways.
* You are a sister duo right? How did you decide to work together?
Yes we are! We are also best friends so its fun for us to work together. The best part is we have completely different styles so it totally helps in the design process.
* How did you come up with your business name?
We literally decided on the name in five minutes. We loved it. It sounded good...so we went with it.
* What is your background in fashion?
I've always loved everything about design. I knew that I needed to work in something that allowed me to be creative. In college I worked as a makeup artist for Chanel. I learned SO much about style, business and branding.
*What colors do you just swoon over every time you see them?
Black and White! Simplicity
*What is your ideal "me time"?
coffee and yoga!!
*What is your favorite thing about Junk in the Trunk Vintage Market?
The sense of community! This is my third year doin the show and every time I am so inspired. Coley and Lindsey do such a great job of bringing everyone together. Whether is is through the vendor nights, poster party or even through social media they bring the community together to support each other.
*Have you had any of your followers recognize youw hile your out and about? If so tell us about your "celebrity" moment!
We have had a few moments, but the best is when we see people out and about in our products! We change our hair accessories so much so when we see them out and about we can usually tell when people bought them. ITs awesome whenwe see one from a few years ago.
Well that's it peeps! Be sure to stop by their booth at Junk in the Trunk Vintage Market this Saturday at West World in Scottsdale! If your not local, you can visit their shop
HERE
and be sure to follow them on
Instagram.
They are doing giveaways for the next couple days to get ready for JITT. Also if you buy a RB tote you get a discount at their booth the whole day! RUN!!!